Welcome Spark Clear Aligner Doctors!
Learn how to save a Spark Case for submission to YOC:
Step 1: Login to your Spark account and open up the patient file you would like to submit.
Step 2: Once open, click the Folder icon in the top right of the screen and then click Save As.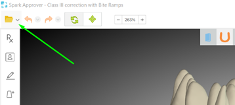 Step 3: Save the file on your computer, we recommend naming it the case number or something easy to identify. The file will save as a .oas file.
Step 4: Upload the case file in the Images and Files section under the text box when submitting a case to Your Ortho Coach.
Step 5: Add any other images, files, and text you would like the coach to know before submitting and then submit anytime!
Please note that all personal information is encrypted and protected on YourOrthoCoach.com. Click here to read more about how we protect your information.