Ignite Your Potential with this Summer Special!
Are you ready to make the most of your summer and unlock your true potential? Invest in yourself with our exclusive summer promo for virtual personalized 1-on-1 coaching sessions with Dr. Willy Dayan.  
For a limited time only, Dr. Dayan will be offering virtual 1-on-1 live meetings at the same rate as submitting a new case to Your Ortho Coach.
During these sessions, you and Dr. Dayan will look at your cases and records together. From there, he will assist in developing a treatment plan and an aligner video with you. This gives you the opportunity to ask your questions along the way. You will easily be able to gain invaluable insight and develop practical strategies to navigate through your treatment plans.
Scroll down to see a message from Willy!
Members: Purchase for 275 Credits
New Members: Purchase $275 in Credits to Register
When booking a session, you are able to upload/link cases, photos, or anything else that would be useful during your meeting with Dr. Willy Dayan. Your meeting will be hosted through Zoom Meetings, and the coach may require you to toggle on/off your mic, camera, and share screen. If you are unfamiliar with Zoom tools, click here.
Login to your YOC Account and then click the Request Coaching button:


Then click the Coaching Service dropdown and voilà!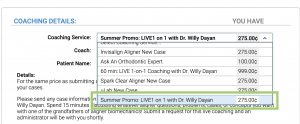 Members: Purchase for 275 Credits
New Members: Purchase $275 in Credits to Register