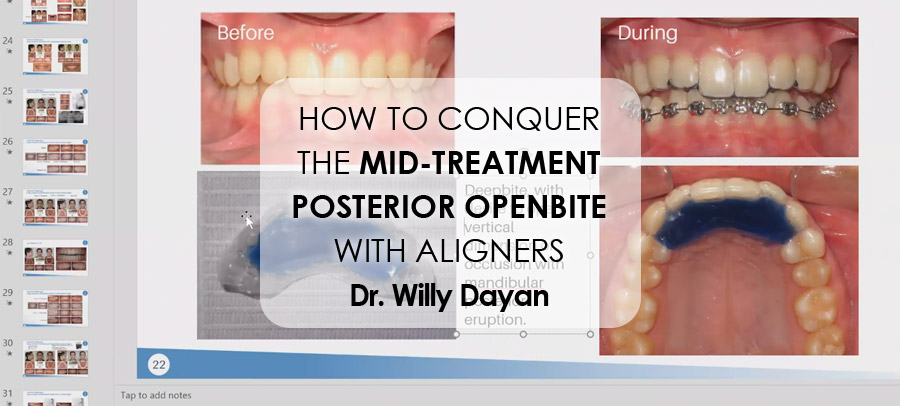 Unexpected posterior openbites are one of the most common – and frustrating – ways that aligner treatments can go wrong.
In fact, some aligner clinicians avoid ALL deepbite cases for fear of this outcome. Many even claim that it's impossible to properly finish these cases with a solid posterior occlusion.
We're going to put that myth to rest on our upcoming webinar titled "How to Deal with Mid-treatment Posterior Openbites In Aligner Orthodontics."
On this webinar, Dr. Willy Dayan will give you all the tools you need to:
Solve the mid-treatment posterior openbite and finish with good posterior occlusion

Expand your case selection to deepbite cases you'd normally shy away from for fear of this problem

Recognize the different causes of mid-treatment posterior openbites and avoid them from the outset in most cases

Confidently evaluate posterior openbites when they occur and design an effective aligner treatment that will finish with great results and few refinements

Produce orthodontic results similar to your braces cases without having to accept lower standards to your finish with aligners
There will also be plenty of Q&A time, so you can ask Dr. Dayan any questions you may have.
Get On-Demand Access to the Webinar Replay
You missed your chance to attend this webinar Live… but you can still get access to the On-Demand replay. Pay once and watch it as many times as you like.
First, you'll need to become a member of Your Ortho Coach. Once you have an account with Your Ortho Coach credits, you can spend them on the Webinar.
See Our Flexible Membership Plans