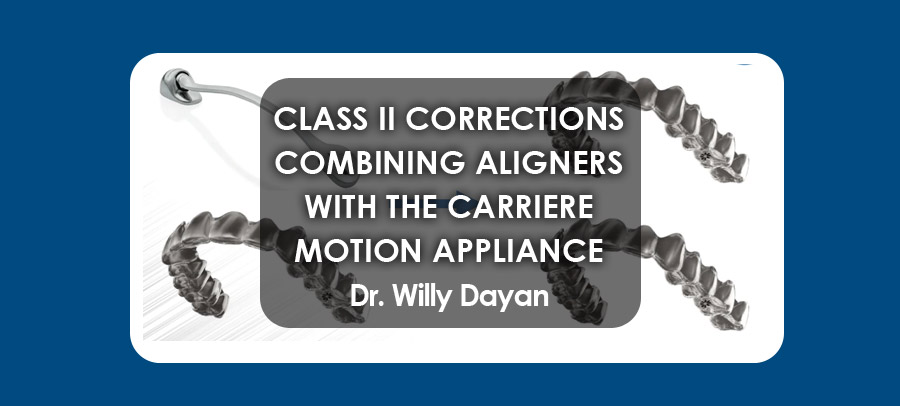 December 6th – Dr. David Walt: How to Turbocharge Class II Corrections By Combining Aligners with the Carriere Motion Appliance
The Carriere Motion Appliance is a great tool for treating Class II patients.
It can correct larger Class II's than are possible with just Aligners/braces and elastics – and do it much faster.
Dr. David Walt has developed a hyper-efficient method for using the Carriere Motion Appliance in conjunction with Aligners.
Using this method, Dr. Walt is able to finish most Class II cases in just 12 – 15 months.
He does this by aligning the lower teeth with Aligners while the Carriere Motion is active on the upper teeth. This is far more efficient than just having a passive retainer on the lowers while the Carriere Motion is on.
On this webinar, Dr. Walt will walk you through his system for combining the Carriere Motion with Aligners, from beginning to end. He'll cover:
How to use the Carriere Motion Appliance to transform a difficult Class II deep bite case into a much easier Class I spacing case in 4 – 6 months

How to set up the initial ClinCheck for lower Aligners only – so you can start to align the lowers at the same time as the Carriere Motion is doing its work on the uppers

Detailed explanation of the clinical bonding process, initial instructions, and steps to minimize unwanted side effects

Step-by-step walkthrough of how to manage the protocol appointment by appointment

The process of debonding the Carriere Motion Appliance and transitioning to both upper & lower Aligners

Setting up the ClinCheck for additional Aligners to finish out the case once the Carriere Motion is removed
To make things as clear as possible, Dr. Walt will demonstrate his system using examples of real cases he's treated.
We'll also have plenty of Q&A time at the end for those who attend Live.
Get On-Demand Access to the Webinar Replay
You missed your chance to attend this webinar Live… but you can still get access to the On-Demand replay. Pay once and watch it as many times as you like.
First, you'll need to become a member of Your Ortho Coach. Once you have an account with Your Ortho Coach credits, you can spend them on the Webinar.
See Our Flexible Membership Plans