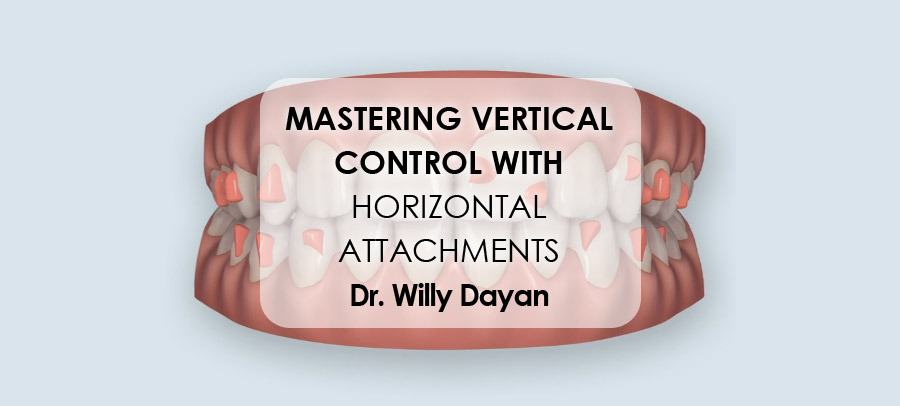 Vertical control is essential.
Your ability to control vertical movement in teeth determines your ability to solve so many different kinds of malocclusions – including openbites, deepbites and even sagittal problems.
And when it comes to vertical control, horizontal attachments are one of your most important tools.
This webinar will cover all of the choices, modifications and customizations you need to be familiar with to have complete mastery over your horizontally retentive attachments with Aligners.
On the webinar, Dr. Willy Dayan will show you:
The key principles & bio-mechanics of Aligner intrusion & extrusion – and how they affect everything you do with horizontal attachments

How to customize your horizontal attachments & create the most effective attachment for each situation

Pros and cons of gingivally beveled vs occlusally beveled attachments, & How to decide whether to use a horizontal bevel to the gingival or occlusal

Why you should put extra bevel to the gingival flushed attachment but not the occlusal bevelled attachment

Why rectangular attachments work on the molars, but shouldn't be used on other teeth

How to modify the ClinCheck to ensure you get the optimized attachments you're looking for

How to place conventional attachments in unconventional positions to cause root tipping at the same time as extrusion

And many more tips that will help you treat cases far more effectively and efficiently
All of this will be demonstrated in detail through real cases that Dr. Dayan has treated. We'll also have plenty of Q&A time at the end for those who attend Live.
Get On-Demand Access to the Webinar Replay
You missed your chance to attend this webinar Live… but you can still get access to the On-Demand replay. Pay once and watch it as many times as you like.
First, you'll need to become a member of Your Ortho Coach. Once you have an account with Your Ortho Coach credits, you can spend them on the Webinar.
See Our Flexible Membership Plans